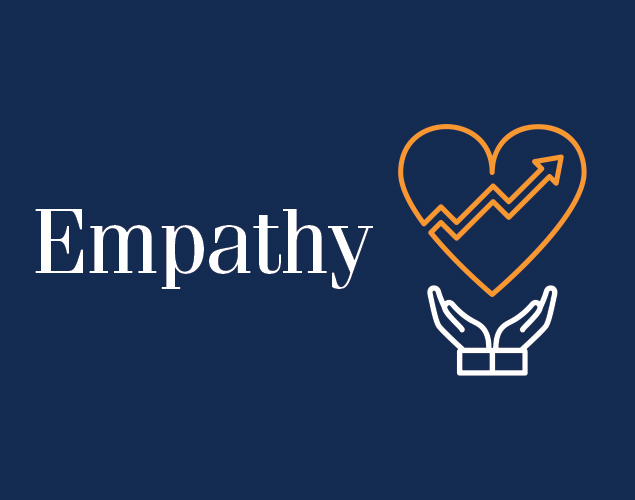 Why empathy is a critical leadership skill today
Back when I was still a young girl, there was a pop song by female vocalist, Jackie DeShannon called "What the World Needs Now is Love."  Fast forward forty some years, and we can certainly claim that "what the world needs now is empathy."
So, what exactly is empathy?  We believe that empathy is making the time and space to genuinely care and be curious to understand what matters to the other person, and to acknowledge it.
Core Leaders who demonstrate empathy (and strong EQ) are essential to helping your employees navigate and manage through the emotions and changes impacting both their work and their personal lives.
Right now, we are hearing from HR leaders that they are trying to make sense of where their company is now versus where it was … and even more complex is … what's next.  HR is working to balance the people needs with the business needs; they know that how their company responds to clients and employees will greatly impact its reputation and brand for a long time, and that translates into customers and talent.
Everyone's experience of this moment is different, however there are some themes repeated from those we coach:
Uncertainty about life on many levels
Heightened stress levels in ourselves and others
Changes we didn't expect … and hoping we will find a way to handle them and cope
A desire to stay healthy both mentally and physically
It is in commonalities such as these that we connect to each other as human beings.  And yes, the people we work with need to know that they matter, that someone "gets" them.  They not only desire, but need to know that they are understood and safe.  People stay stuck if they don't feel heard, and empathy creates a safe zone – a place where well-being is nurtured.  There is plenty of research indicating that when that happens, people:
Perform better – working harder and smarter
Are more engaged and committed
Are able to focus more effectively
How to get more of this in your organization?  Build on the momentum that has already started!
As you do this, consider two kinds of empathy your Core Leaders can use: (1) Presumptive Empathy and (2) Exploratory Empathy.
In Presumptive Empathy – leaders who want to keep engaged productive teams and strong client/customer relationships are deeply curious to know more.  They see, truly listen, or experience something – it could be something someone says or does, or even something they feel in their gut.  The leader may make some assumptions about how someone might feel, what they need or what they think.  They may ask the questions "what might it be like for them," or "what might the other person be thinking, feeling and wanting."  You may design organization-wide communications, policies and actions based on this.
Exploratory Empathy goes deeper.  It means that the leader takes action to understand what is true for the person, and not just rely on assumptions alone.  Here, we test our assumptions, ask questions to get a clearer picture of what really matters to that person or that group of employees, and clarify our understanding with them.
Investing time and resources in developing your Core Leaders in how to create a culture of empathy on their teams will dramatically impact how people will view your organization, and how they will show up both now and over time.
Demonstrating empathy in the workplace can feel counter to so much of what many leaders have learned about managing, yet research and company results show us that it ranks among the top key competencies that leaders need to be successful.  Why the confusion?  Look for our next blog post – "Empathy and accountability – We can manage both."