How Businesses Benefit from Increased Team Empowerment
An empowered team means people are typically more engaged in their role and they tend to work harder toward their goals. But what does "team empowerment" look like? How do you know whether you're empowering your employees?
Here's a list of some simple, deliberate actions to help your team feel empowered:
Create spaces of collaboration and an openness to the ideas of others—
Encourage teams to collaborate with each other; to ask for and provide feedback; to listen to the thoughts of others; and to remain open to new ideas.
Invest in the development of team members—
Leaders can offer coaching to help employees grow their skills and capabilities; make time to connect with them to understand their needs; make time for discussion on their development (not just business goals); and to let them know they are valued.
Communicate—
Remind Leaders to keep their team informed; share big picture information, goals, challenges; and create clarity for the team on what needs to be done.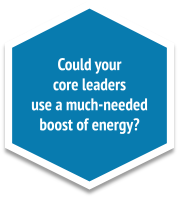 Interested to learn more? Contact us at: sales@coachingrightnow.com – we look forward to helping!